A scientist and the federal agent who is hoping to keep her alive are trapped in a building with a horde of hungry vampires. It wouldn't be that unusual of a night, if it weren't for the zombies.
So goes the pitch for Caged, Book 1 in the V to Z Trilogy. There are three characters who tell the story of one night.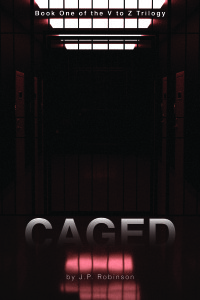 Cate is a scientist. While Cate and her team work to produce a cure for vampirism, they actually produce something far worse – zombies. Whoops!
Mason is a federal agent who is on a routine visit to the research facility where Cate works when all hell breaks loose. As fate would have it, (or me, really, it's as I would have it), Mason is Cate's former fiancé and even though their relationship ended with her refusing to speak to him, Mason does hope they both survive the night.
Daniel is a vampire terrorist who thinks pretty much everyone trapped inside the building with him deserves to die. Of course, when he made plans to take over the building, he hadn't counted on there being zombies to contend with. Now, he has to figure out how to survive the night himself, and how to turn the zombies to his advantage.
Purchase Now